Date/Time
Date(s) - 10/05/20
11:00 am - 4:30 pm
Location
Sunbear Studio
Sunday October 5,
11:00 a.m. – 4:30 p.m.
Instructor: John Cameron
Fee: $75.00
Supplies: A materials list will be given upon registration; If you are purchasing supplies, plan to spend about $50-$75.00.
This workshop is for beginners who want to 'dip their toes in the water' for the first time.  Learn all the basics of watercolor painting and prepare yourself for more advanced classes.
The workshop will include:
How to get paint ON the paper: using a variety of watercolor brushes and materials to achieve different 'looks' to your painting. We'll use a large round brush, flat brush, small liner brush, fan brush, mop brush, natural sponges and spattering.
How to get paint OFF the paper: using common household items, you can strategically remove paint to achieve a desired look and sparkle of light. Removing paint is not just a correction of mistakes!
Mixing Watercolor Paints:  Learn how to mix two or more colors to get the perfect color.  With just red, yellow and blue you can create an endless rainbow of colors in your painting.
Properties of Watercolor Paint:  Find out about various properties and characteristics of watercolor paint, including transparent, opaque, staining, and non-staining, sedimentary/granular, and 'fugitive' paint.
Lots of handouts will be provided to enable you to continue to work at home.
We'll have a half hour lunch break, so bring a sack lunch or order from one of the nearby restaurants.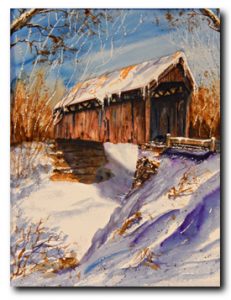 About John:
John's medium of choice for painting is transparent watercolor.  To continue improving his painting skills, for the last several years, he has taken painting lessons from a wide variety of well-known and respected local and national watercolorists.  John is a Westerville native, and is involved in the local art scene as Past-President of the Westerville Art League, Past Vice-President of the Central Ohio Watercolor Society, (a juried art group), and Immediate President of the Arts Council of Westerville.  He taught for over two years at Sunbear Studio and Gallery in Alexandria, and currently teaches ongoing classes for beginning and intermediate adult watercolor painters at the Westerville Community  Recreation Center, the Bryn Du Art Center in Granville, and the Westminster-Thurber Retirement Community is Columbus.  John's paintings have been exhibited locally in several venues.